Douglas McGeorge is recognised as one of the best breast surgeons in the UK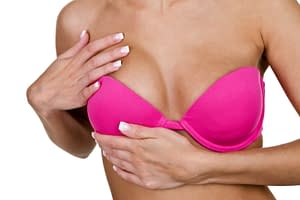 Undergoing a surgical procedure to change your appearance is one of the biggest decisions a person can make. It's vital you choose the best plastic surgeon to carry out your surgery, a recognised expert, in order to ensure you get the results you want.
Although there are a wide variety of both surgical and non-surgical cosmetic procedures currently available, one of the most common areas that people look to change is their breasts.
Whether it be an enlargement, lift, or reduction, it's essential you pick a specialist surgeon to carry out your treatment. Importantly they will advise you as to what the best procedure is for what you're hoping to achieve through surgery. They will take you through the procedure and recovery, detailing the limitations that you may present, along with any potential complications. You have to be properly counselled to make an informed decision.
Having consistently been named as one of the best breast surgeons in the UK, Douglas McGeorge, who is based in Chester, has once again been featured in this years Tatler Beauty & Cosmetic Surgery Guide. As one of their recommended breast surgeons, he builds on his success from previous years. CEO Magazine named him Plastic Surgeon of the Year for the last three years.
As Tatler highlight in their April issue, Douglas McGeorge is one of the best breast surgeons because of his approach. Having understood their wishes, he suggests the best treatment to the patient, based on their current breast size and body shape, providing a recommendation on how they can complement their current breasts with suitable implants or other surgical procedures.
Douglas places the comfort of his patients above all else, ensuring his clients are well informed about any procedure they may wish to undertake, as well as ensuring the treatments not only look good but that they feel good for the patient too.
Having established the Plastic Surgery Unit at the Countess of Chester Hospital in 1993, Douglas then began his practice in the private sector; showcasing his expertise and talent as one the best breast surgeons in the UK by introducing immediate breast reconstruction to Chester and the wider Cheshire region.
He continues to offer an unrivalled service today and is dedicated to providing the highest standard of excellence and personal care to his patients, building on his reputation and maintaining his position at the forefront of his speciality.
If you are considering aesthetic surgery, Douglas McGeorge offers a full range of facial rejuvenation and breast surgery procedures, that he can tailor to your specific needs or requirements.
If you'd like to discuss what options may be available to you, we suggest you schedule an initial consultation, where any procedure will be explained in full.
To book your consultation, please call 07973 130 058 or complete our online enquiry form.